What is the Elan GMK Avalanche Server?
The Elan GMK Avalanche server is a collection of server-based applications running on Windows which can process complex image and text documents to provide fully searchable documents.
With a uniquely efficient workflow large enterprises use the Elan GMK Avalanche server to automatically process high volumes of documents to make them accessible and searchable.
By offering off the shelf server solutions delivering Drawing & Plan OCR or PDF/UA capabilities, customers can easily configure the Elan GMK Avalanche server to meet their needs.
Additionally, Elan GMK can develop additional, bespoke functionality to integrate into the Elan GMK Avalanche server to meet the specific needs of the organization.
The functionality of the Elan GMK Avalanche Server and the constituent engines performing the transformational processes have been developed to meet the needs of our clients in aerospace, defense, civil engineering, legal environments and those enterprises with large scale document processing needs.
Such bespoke functionality can include, but is not limited to the following:
Format Conversion e.g. PDF to XML conversion engines
Text processing
Image analysis, detection and extraction tools
Content Discovery
Document Layout Analysis – e.g. Form recognition and processing
To learn more about the bespoke features Elan GMK can develop and integrate into the Elan GMK Avalanche Server please contact us.
Customers of Elan GMK Avalanche Server
Typically, customers are from defense, Federal Government agencies, aviation, civil engineering, large corporations, legal entities and others with high volume document processing needs.
The Elan GMK Avalanche Server is suited to those organizations who:
Have a business need for Drawing & Plan, PDF/UA or custom OCR
Have high volume of document processing needs
Wish to automate document processing for cost and time
Require strict levels of IT security and compliance
Wish to provide document processing services to other enterprises, such as Service Bureaus
What are the benefits of the Elan GMK Avalanche Server?
Cost Effective & Scalable 
The primary benefit to users of the Elan GMK Avalanche server is that it enables cost effective highly automated document processing at scale. Physical or virtual machines with processing engines can be added to the system with ease.
Highly Accurate OCR
The high level of accuracy delivered by the Elan GMK Server OCR,  whether used for drawings, PDF/UA or customized application is unrivalled in the market.
Even where documents/scans maybe old or of poor quality the system is capable of detecting such image only PDFs and can extract embedded images without adding any additional distortion to provide high levels of automation with the best possible performance and speed.
Supports Multiple Input and Output Formats
To give maximum flexibility the following are supported: TIFF, PDF, JPEG, PNG, BMP, JEDMICS CALS Type 1 and 4. This means the solution is viable for organizations with almost any document type.
Low Processing Error Rate
File processing errors typically below 0.1% even where tasks run to millions of pages. This enables maximum automated performance limiting the need for manual intervention.
Versatile and Highly Configurable Reporting
All the processing details such as time taken, detected errors etc is collected in the database by way of deep logging for analysis. This information can be incorporated into custom-built reports.
Robust Error Handling
Email or GUI notifications to administrators can be easily set up for un-attended operations. Operators can then quickly analyze errors and instigate relevant additional processes to resume processing efficiently.
Highly Stable
If engines go offline due to hardware or other software failure, no data is lost, no document goes unprocessed. Instead, the system is able to recover itself from the point of failure without the need for any manual recovery.
Intelligent Workload Balancing
With the aid of the PDF separation engine work can be easily distributed between engines for maximum efficiency. Original PDF or raster files are divided into separate pages and OCR processed simultaneously by multiple engines before being reassembled into a multipage output document. This method gives huge processing time savings compared to typical modes of operation where one engine would be tasked with processing an entire file.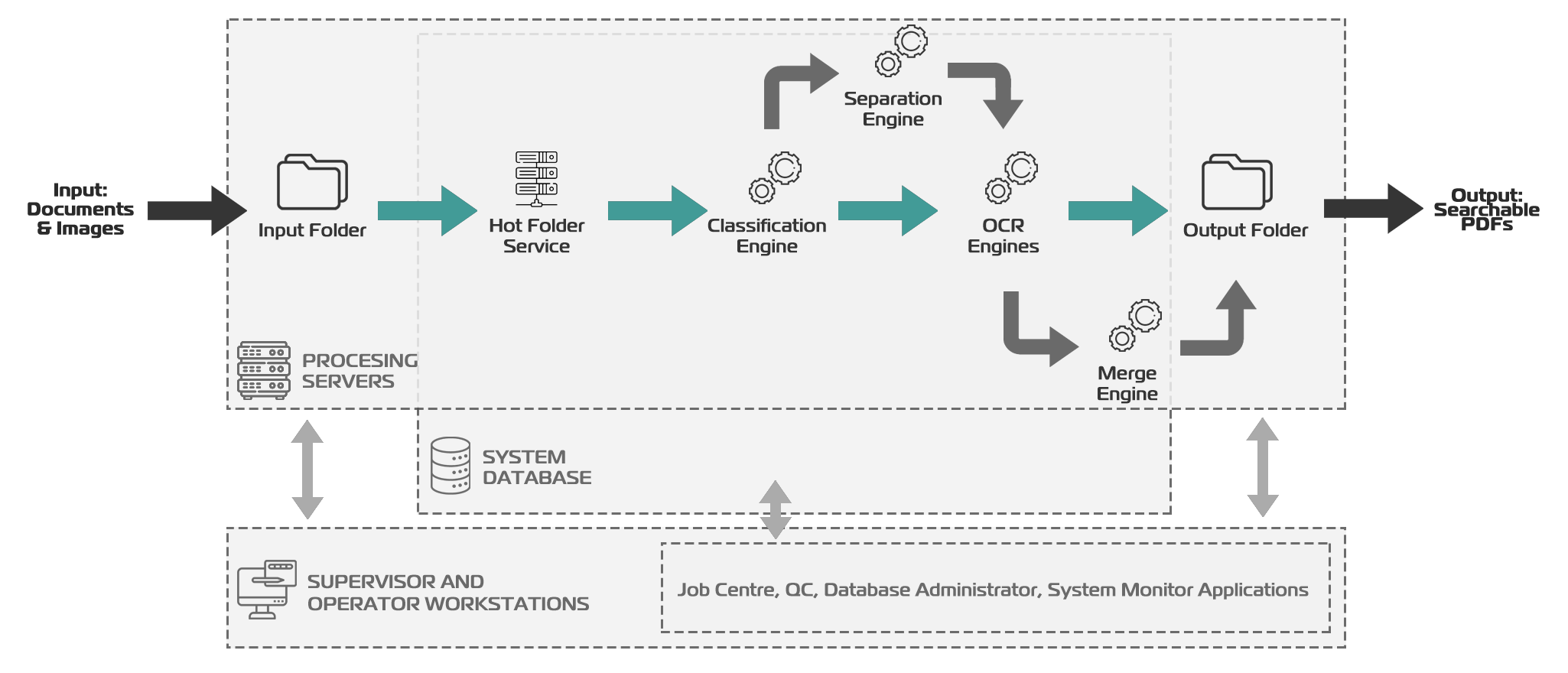 Find out more
To request more information about our Avalanche Server, please contact us using the form below.